Hot rods have long been symbolized with speed, unique looks, and the Rock n' Roll era, yet many do not know the history of this type of car. In the beginning it was about speed and showing up the wealthier auto owners, but today it is a hobby that has grown to national attention with TV shows, speed shops, and specialty shops all across the nation specializing in hot rods. The term hot rod is generally considered to be based off the term "Hot Roadster", although this has always been in contention with hot rod fans. These first hot rods were not actually called hot rods; Their nicknames at the time were "Hop Ups", "Gow-Jobs", or "Soup-Ups".
Like so many other automobile firsts, California is considered to be the birthplace of the hot rod. With Ford successfully bringing mass production to the automobile industry, millions of Model T automobiles were on the road by the mid 1920's. These early Model T's only produced around 20 horsepower, and the adrenaline lovers wanted more! Racing became a big hit on the salt flats to the East of the California cities, and racers quickly learned how to speed up their cars. The first steps were to remove any unnecessary pieces of the car, including fenders, running boards, ornaments, headlights, and hoods. This is why the "engine outside the car" look is so prevalent on hot rods today.
The next steps were to add larger tires in the rear for higher gear ratios and speed, while the lower front tires helped lower the front for aerodynamics. Slots were added near the engines to help them cool, or the panels around the engine were removed completely. Some extreme hot rod designers even removed the windshield. Hot rod racing was only a small niche before the Model A was introduced in 1927.
Ford replaced the Model T with the Model A in 1927, and sales skyrocketed. The flathead V8 engine was released in 1932, and hot rodding would never be the same. Producing 85 horsepower in stock, hot rodders quickly learned how to nearly double the horsepower and reach speeds of nearly 100 mph by removing the muffler, straightening the exhaust, and adding multiple carburetors. Because the Model T's, Model A's, and flathead engines were mass produced in the millions, the cars, engines, and parts were all relatively cheap. This catapulted the hot rod craze to new heights before everything came to a halt during World War II.
With the start of World War II, the hot rod craze basically disappeared. Most men hot rodding were the age having to serve in the military, and were shipped off overseas. They put their cars up on blocks, but brought stories and pictures to show their buddies wherever they went. When the war was over, hot rodding exploded in popularity due to hot rodders showing off their cars and stories to servicemen everywhere. Hot rods were no longer meant for California only. The hot rod fad was fueled by the need for more adrenaline after being in battle, newfound skills in mechanics and sheet metal, and the extra cash GI's had.
Street racing became prevalent across America in the 1940's and 1950's, and was quite dangerous. There were many accidents and fatalities, many very gruesome due to no safety equipment and safety designed into the hot rods. The NHRA (National Hot Rod Association) was formed in 1951 to address the safety issues involved with hot rods, and to help shape up the image hot rods had in America. Organized racing on drag strips took off, and soon cars were being built designed for racing only and not for street use.
This is when hot rods and street rods branched from each other; By the late 1950's and early 1960's, major engineering changes were happening that could propel an automobile to 180 mph very quickly. Drag strip racing now started to feature more exotic cars such as "Funny" cars, and safety had to be designed into these models. These new racing cars could not be street legal, so many hot rod enthusiasts took the fork in the road following the drag strip racing. However there were some that still followed the street racing fork in the road, but looks started to be just as important if not more important with hot rods. These now started to get the name "Street Rods" since they were street legal, although the term hot rod is still the predominant term today.
Another hot rod fad that took off in the 1960's and is still around today is customizing or "Kustomizing". Custom cars are based around design and looks more than to performance, although many cars excel at both performance and looks. Customizing a car included adding decorations, extra sheet metal, removing unwanted parts, lowering/raising the struts, wild paint jobs, and many other changes. There were many famous customizers in the 1960's and their cars today are very valuable.
Drag racing took a toll on the hot rod/street rod industry, and by the mid 1960's Detroit introduced the muscle car and pony car to America, and now anyone could buy some extreme horsepower right from the showroom floor and race it on the street the very same day without needing any major modifications. By the late 1960's, medium sized cars had 454 ci V8 engines squeezed into some models, making for a quite fast auto that was hard to beat at the stoplight.
Today, hot rodding is popular again thanks to nostalgia and t.v. Many popular TV shows have been broadcasted showing auto restorations, hot rod building, and racing. There is even a "Speed" channel which has a lot of hot rod shows on. Many hot rodders from the 1950's and 1960's also are back into it,now that they are older and have more time and money on their hands. They can build that dream hot rod they never could build before.
More images of American Hot Rod: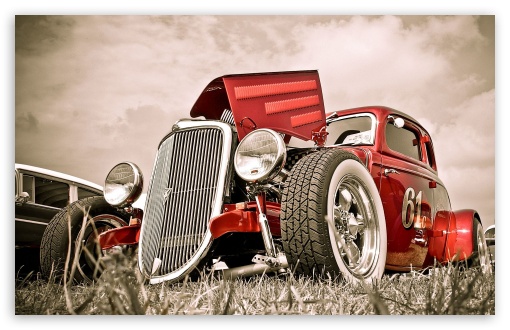 AMERICAN HOT ROD FOUNDATION:
[youtube]http://www.youtube.com/watch?v=4Hb0QatZmiI[/youtube]
THE HOT ROD CRAZE 1953
  (1953 the hot rod a story)
[youtube]http://www.youtube.com/watch?v=cstlYdYJorQ&feature=related[/youtube]