Hotel Translyvania 2 is a sequel to 2012 release Hotel Transylvania, which told the tale of a hotel for ghosts, ghouls, and monsters run by legendary vampire Dracula. The sequel sees Dracula's daughter, also a vampire, married to a human and raising a young child, who is yet to grow his fangs and become a full vampire. The film, like the first one, is directed by Genndy Tartakovsky, best known for creating classic animated series like Dexter's Laboratory, Samurai Jack, and Star Wars: Clone Wars. The film stars Adam Sandler as Dracula, as well as featuring Andy Samberg, Selena Gomez, Kevin James, Steve Buscemi, David Spade, and classic comedy film director Mel Brooks as Dracula's father, Vlad.
     As it is now officially fall, that means that the Halloween season is upon us. As we begin to be able to see our breath, ghosts begin to haunt our daily goings. The orange and black decorations are being put up, kids are starting to get their costumes together, dentists are getting excited for the upcoming cavity boom. The spooks are nigh. And what better way to enjoy this time of the year than with a spooky film?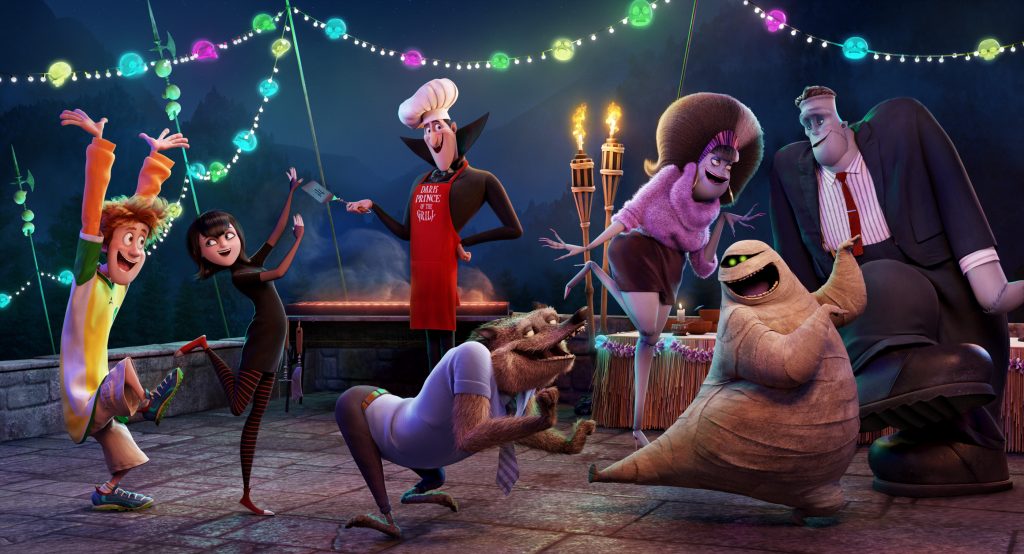 The film will be sure to entertain viewers of all ages, as it will be simply hilarious. Both adults and kids will be able to enjoy the laughs, as the kids will be entertained by the constant jokes coming at them, and the parents will love all the references to the classic horror villains featured in the film, such as Frankenstein's monster, the Wolfman, and the Invisible Man. Mel Brooks role as Vlad will also be sure to be a hit, as Mel Brooks has been one of the premiere American entertainers for decades upon decades.
     The film will be playing at your local drive-in, so before it begins to close down for the season, make sure to head over with your family, and catch some of the great films we have coming up, including Hotel Translyvania 2.