This upcoming week, we have two new films coming to your local drive-in, both of which are properly spooky for the Halloween season. Firstly, we have Goosebumps, an interesting take on the classic book series of the same name by author R.L. Stine. The film is written by Darren Lemke, based off of a story by Scott Alexander and Larry Karaszewski, and directed by Rob Letterman. The cast includes upcoming teen actors Odeya Rush, Dylan Minnette, and Ryan Lee, as well as older, more established actors Amy Ryan, Jillian Bell, and Jack Black leading the cast, playing R.L. Stine himself. The story of the film sees Stine and his daughter, played by Odeya Rush, moving to a new town where he becomes the English teacher of the local high school. Intrigued to learn about these new mysterious neighbours, Minnette and Lee's characters sneak into Stine's house, finding the manuscripts of all of the Goosebumps books he wrote, and accidentally opening one, unleash the monster hidden inside the book. They also end up unleashing the rest of the monsters, which leads to Stine and the teens teaming up to recapture them all and save the town.
The film has been garnering positive reviews so far, and looks to be a hilarious horror addition to the Halloween season. This film will offer good laughs and good scares, so this will be the film to see with your family this upcoming weekend.
If looking to see a film without the kids, then you'll be dying to check out new release Crimson Peak. The latest film from one of Mexico's finest directors, Guillermo del Toro, also written and produced by him, stars Mia Wasikowska, Jessica Chastain, Tom Hiddleston, and Charlie Hunnam, as well as featuring an appearance from recurring collaborator Doug Jones, one of the most famous actors to work near entirely in motion capture roles. The film tells the tale of Wasikikowska's character, Edith, an American author living in the 19th century, who meets and falls in love with Hiddleston's English aristocrat, and moves to his estate in Cumbria (in north-west England), living with him and his sister (Chastain), who doesn't seem to be too happy to be sharing the space. Both brother and sister however seem to be hiding some sort of secret about the house, a ghastly (and ghostly) secret.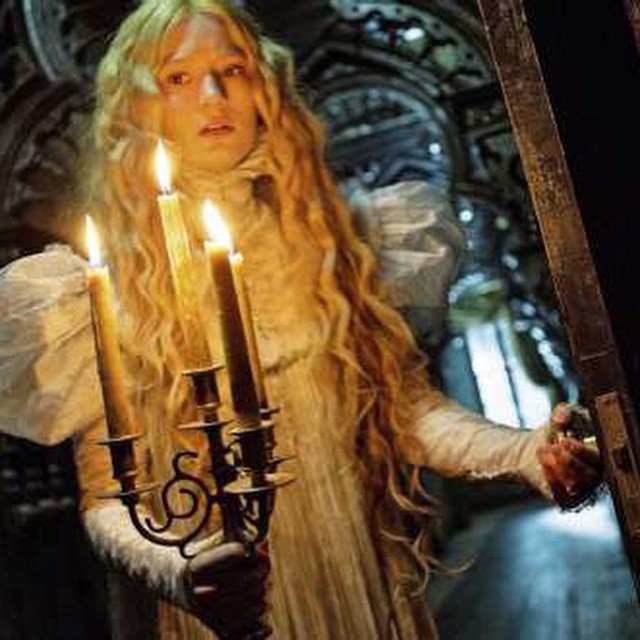 This looks to be a much more gothic thriller than the other new release this week, as well as a much scarier one. Del Toro is famous for having made various award-winning films in the past, including the Academy Awards, both in English and Spanish, his first language. He is also famous for making several underrated Hollywood blockbusters, including the two Hellboy films, and Pacific Rim. Del Toro is certainly one of the more underrated filmmakers working today, who always makes terrific films, and Crimson Peak is sure to be another fantastic film from this Mexican master.
Both films will be playing at your local drive-in, so be sure to check them out in order to get your thrills and scares this weekend, for is there any better setting to watch a scary film than in the dark, under the stars?